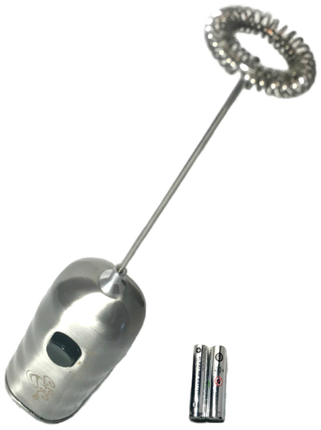 Cafe Ca
saTM
Milk Fr
other 2 Speed Handheld Drink Mixer - Stainless Steel - With 2 AA Batteries Included
The Cafe CasaTM Professional Frother is sold exclusively by Idea Marketing Group on Amazon.com. Beware of unauthorized sellers.
5 Year Manufacturer Warranty
Prepare steam-free froth for delicious lattes and cappuccinos with The Cafe Casa Dual Speed Professional Frother!
The Cafe Casa Professional Frother is a elegant handheld dual speed frother. This battery-powered milk frother works with cold or hot drinks. The powerful motor spins at over 15,000 rpm and activates instantly to produce froth within 10 to 20 seconds. It creates delightful foam for cappuccinos, coffee lattes, chai lattes, chocolate milk, and other specialty drinks. This frother quickly and effectively foams whipping cream, whole milk, skim milk, soy milk, or almond milk.
The Cafe Casa Professional Frother is not only powerful, but also beautiful. It is made of brushed stainless steel. It embodies a blend of durability and elegance.
It is made of food and drink safe materials. It rinses easily for easy storage. It is the perfect frothing tool for both the professional barista or the home barista.
---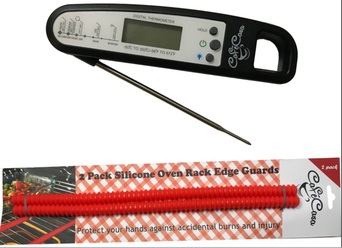 Ca
fe CasaTM
Instant Read Digital Cooking Meat Thermometer and
Set of 2 Silicone Oven Rack Guards
THE ESSENTIAL KITCHEN BUNDLE Be safe in the kitchen! This accurate thermometer will ensure that your meats are cooked to at a safe temperature. The handy guide on the handle reminds you of the specific temperature for different foods. The silicone oven rack protectors ensure that you won't burn your arm or fingers.
ACCURATE AND EASY TO READ - Flip out the probe, insert the tip into your food, and in 4-7 seconds you will have an accurate and easy to read temperature displayed on the large back lit dial. Quick results in 4 - 7 seconds. Remarkable accuracy (±1°F).
PREPARE HEALTHY, DELICIOUS ENTREES. No more over or under cooking. Convenient cooking guide is on the body of the thermometer.
MAGNETIC BACK provides more storage options. Adhere to appliances for quick, convenient use.
INCLUDES 2 PACK OF PREMIUM OVEN RACK SHIELDS! High grade silicone oven rack guards withstand heat up to 446 degrees Fahrenheit. Easy to install, 14 inches long oven rack shields are easy to cut to fit any oven. Rack guards are easy to clean, dishwasher-safe.
---